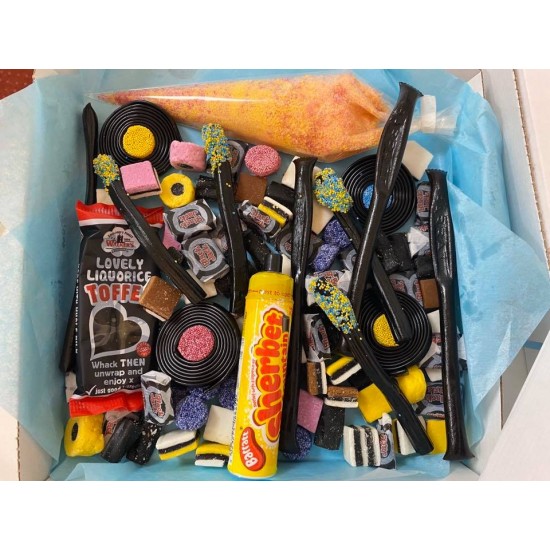 New
Liquorice Lovers 9" Sweet Pizza Box
Stock:

In Stock

Product code::

08662
These are new to Oh So Sweet! We Initially created this range of sweet boxes for customers in store only, but due to their success we wanted to make them available to the rest of the UK!



A 9" pizza box of Liquorice sweets, containing lots of nostalgic favourites! Including sweets such as Catherine Wheels, Torpedos, Black Jacks, Sherbet Fountain, Liquorice Allsorts, Creamy Liquorice Toffee, Spanish sticks & also a bag of Rainbow Crystals & more!



So much fun packed into one box, perfect for sharing....or indulging for yourself!


The box is white, and sweet contents are sealed inside the box in a clear cellophane bag for freshness, the box can be personalised with a large printed design with any wording of your choice making them ideal for birthdays and special occasions.



This particular box is not suitable for Vegetarians.



We also have four other 9" boxes in this range! please check them out!



Ingredients:
Glucose Syrup, Sugar, Dextrose, Gelatine, Acid: Citric Acid, Caramelised Sugar Syrup, Flavouring, Fruit and Plant Concentrates: Apple, Aronia, Blackcurrant, Elderberry, Grape, Kiwi, Lemon, Mango, Nettle, Orange, Passion Fruit, Spinach, Glazing Agents: Beeswax, Carnauba Wax, Invert Sugar Syrup, Elderberry Extract, Carob Extract Glucose Syrup, Sugar, Gelatine, Dextrose, Citrus Acid, Malic Acid, Caramelised Sugar Syrup, Flavourings, Fruit and Plant Concentrates (Apple, Aronia, Blackcurrant, Carrot, Elderberry, Grape, Hibiscus, Kiwi, Lemon, Mango, Nettle, Orange, Passion Fruit, Spinach), Invert Sugar Syrup, Fruit Extract (Carob)Glucose Syrup, Sugar, Gelatine, Dextrose, Acid: Citric Acid, Flavouring, Fruit and Plant Concentrates: Apple, Aronia, Blackcurrant, Carrot, Elderberry, Grape, Hibiscus, Kiwi, Lemon, Mango, Nettle, Orange, Passion Fruit, Spinach, Glazing Agents: Beeswax, Carnauba Wax, Caramelised Sugar Syrup, Invert Sugar Syrup, Elderberry Extract, Carob ExtractHumectant (Sorbitol), Gelatine (Pork), Potato Starch, Natural Flavouring, Colour (Carmine) Sugar,maize starch,dextrose,E334,sodium hydrogen carbonate,flavourings,colours:E100,E132,E162. Glucose Syrup, Sugar, Starch, Acid: Citric Acid, Flavouring, Fruit and Plant Concentrates: Apple, Aronia, Blackcurrant, Elderberry, Grape, Kiwi, Nettle, Spinach, Glazing Agents: Beeswax, Carnauba Wax, Invert Sugar Syrup, Elderberry Extract, Carob Extract