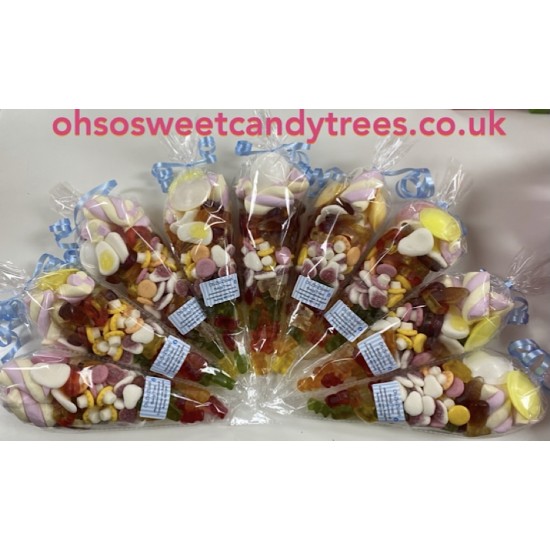 New Hot
Large Pick n Mix Sweet Cones
Stock:

In Stock

Product code::

003999
Large Pick n Mix Sweet Cones
New addition to our sweet cone collection!
Here we have our Large Pick n Mix sweet cones at only £1.50 each.
These contain the same quality sweets as our popular £1 Pick n Mix cones but with 50g more sweets and some added extras!
A sweet cone filled with pick n mix sweets & tied with any colour ribbon of your choice! Beautifully presented which are perfect for thank you gifts or wedding favours.

Perfect treats for all ages.
INGREDIENTS:
SOYA, Glucose Syrup, Sugar, Dextrose, Gelatine, Acid: Citric Acid, Malic Acid, Caramelised Sugar Syrup, Flavouring, Fruit and Plant Concentrates: Apple, Aronia, Blackcurrant, Carrot, Elderberry, Grape, Kiwi, Lemon, Mango, Nettle, Orange, Passion Fruit, Spinach, Hibiscus, Glazing Agents: Beeswax, Carnauba Wax, Invert Sugar Syrup,Elderberry Extract, Carob Extract, stearic acid, modified starch, colours (E124, E132) Tartaric Acid; Stearic Acid, Sodium Bicarbonate, Modified Starch, Magnesium Stearate, Anti-Caking Agent: Magnesium Carbonate; Colours: Anthocyanin, Beetroot Red, Copper Chlorophyllin, Curcumin, Lutein, Paprika.

Not suitable for Halal / Vegetarians
- Vegetarian option is also available, please request this at the 'add comments to your order' at checkout.