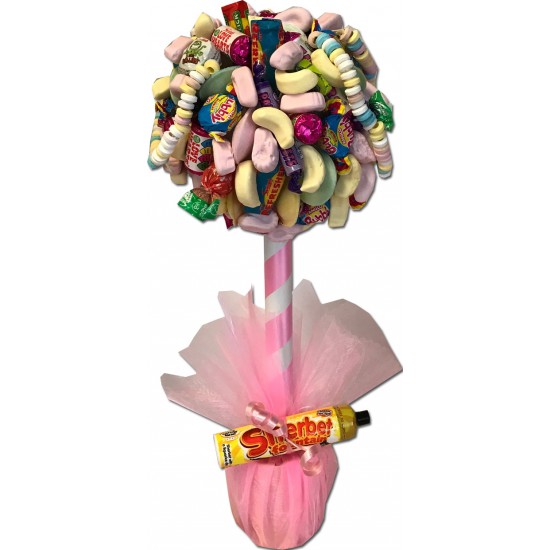 Retro Sweet Tree
Stock:

In Stock

Product code::

0002
Retro Sweet Tree
Created with a huge range of retro sweets! Including Black Jacks, Fruit Salads, Refreshers, Double Lollies, Lovehearts, Flying Saucers, Anglo Bubbly, Candy Bracelets, Drumsticks, Bananas, Shrimps, Parma Violets, Fizzers...HOW AMAZING IS THIS!!
Available in three sizes. Small measure 35cm tall, Large 40cm tall and Extra Large 45cm tall.
If you selected to personalise your gift for £2 extra, please enter the wording you require in the box provided. Wording could be a personal message, or maybe the name and age of the recipient if for a birthday gift, the choice is up to you.
Ingredients/Contents
stearic acid, modified starch, glucose syrup, anti-caking agent (magnesium carbonate), flavourings, colours (E124, E132) Ingredients. Sugar, Acidity Regulators: Malic Acid, Tartaric Acid; Stearic Acid, Sodium Bicarbonate, Modified Starch, Magnesium Stearate, Anti-Caking Agent: Magnesium Carbonate; Flavourings, Colours: Anthocyanin, Beetroot Red, Copper Chlorophyllin, Curcumin, Lutein, Paprika.

The Retro Sweet Tree has NO Artificial Colours - Allergy Information - SOYA, Traces of Milk